A competition to redesign the Notre-Dame spire– www.living.corriere.it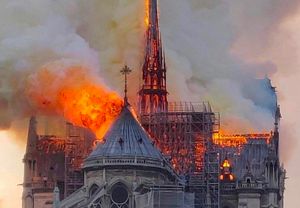 French Premier Edouard Philippe said in a pressconference that the government will launch an international competition forarchitects for the reconstruction project of the spire which was destroyedafter the fire of 15 April.
Read the full "Living – Corriere della Sera"article:
http://living.corriere.it/tendenze/architettura/concorso-architettura-ridisegnare-la-guglia-di-notre-dame/
Christo's floating walkway– www.thefloatingpiers.com
Christo'sfloating walkway– www.thefloatingpiers.com
Certainly one of the most attractive works of recentmonths, the Bulgarian artist's catwalk has attracted the attention of theinternational press and drawn 1.5 million visitors. Visit the official site:
28/06/2016 – by Maria Laura Leo –www.professionearchitetto.it Discover the construction peculiarities of the work.This is how Christo's walk on water was made.
Open Call for 5 tree houses– www.professionearchitetto.it 30-07-2016
The artistic residences of "Foresta", aninnovative project of Terni festival 2016, will be self-built by the designerson the lime trees that adorn the avenue of the CAOS– Centro Arti Opificio Siriof Terni.
The construction will take place between 27 August and 10 September,and will be inhabited by the artists during the Terni Festival, which will takeplace from 16 to 25 September 2016.
Five-hundred-metre Aperture Spherical Telescope– la Repubblica.it – September 26, 2016
China "turns on" the largest radio telescope in theworld.Its parabola has a diameter of 500m and overlooks theChinese mountains: it is FAST (Five-hundred-meter Aperture SphericalTelescope), the gigantic telescope that will also be used for the search for extraterrestriallife. The Xinhua news agency announces its activation. Costing 1.2 billion Yuan(about €160 million), the radio telescope consists of 4,450 panels, and for itsconstruction at the beginning of the year, the evacuation – for securityreasons – of over 9,000 residents was necessary in the mountainous province ofGuizhou, China. The construction of the maxi structure began in March 2011. Thedimensions of FAST exceed those of the Arecibo radio telescope, in Puerto Rico,which has a diameter of "just" 300m.
http://www.repubblica.it/scienze/2016/09/25/foto/la_cina_accende_il_radiotelescopio_piu_grande_al_mondo-148512421/1/#1